It's a night like any other on board the Icarus. Then, catastrophe strikes: the massive luxury spaceliner is yanked out of hyperspace and plummets into the nearest planet.
Lilac LaRoux and Tarver Merendsen survive. And they seem to be alone. Lilac is the daughter of the richest man in the universe.
Tarver comes from nothing, a young war hero who learned long ago that girls like Lilac are more trouble than they're worth.
But with only each other to rely on, Lilac and Tarver must work together, making a tortuous journey across the eerie, deserted terrain to seek help.
I read both these books last summer so it's been a while but they've always stood out in my memory as amazing so I thought it's time I review them as I still need to finish the book I'm reading right now
!
Cover:
Isn't it absolutely gorgeous?
Stars + Two star-crossed lovers trying to hold on to each other + a beautiful silky dress with a seemingly endless train =
Luckily, the beauty of the story matches the beauty of the cover
!
Characters:
Such richly built characters
!
Lilac LaRoux:
Tarver goes from rags to riches in terms of status (but not wealth) before the beginning of the book but with Lilac I would also say she goes from rags to riches in terms of strength of character;)
This is our introduction to Lilac through Tarver's eyes:
What I liked most about her:
She begins as a character with so much

potential-

she just wants to escape her life because she wants to love who she wants, talk to who she wants and have some privacy (similar to the problems of a celebrity;)).
All these small moments of connecting with her finally create this feeling of understanding

the true Lilac

.
She redefines herself: initially she reduced herself to heir to the LaRoux empire or the media's darling but later

she is finally free to define herself by her own abilities

, feelings and inner strength.
There's just one tiny problem...:
Sometimes she annoyed me because she basically scowls and
complains
for half the book (but we see her motivation in her perspective and she remains a
sympathetic
character through it all!) and I didn't understand why she had to constantly make herself dislike Tarver so much
!
We start of with his perspective (there are alternating perspectives which is carried out flawlessly
!
We even get little glimpses into the future through an interview that starts off every chapter) and he drew me into the story with his
deliciously snarky words
and
quietly beautiful opinions.
What I liked most about him:
He's so

sarcastic

!

I swear his words drip with sarcasm sometimes and I catch myself with a little smirk on my face while reading them:)

He's truly

humble.

He attributes his success to external factors rather than to his own hard work.

He's a fighter- but

he fights from the heart

and with compassion, bravery, resourcefulness and intelligence as his sword.
There's so much that we learn about Tarver
!
He has so many cracks on his heart that I loved him even more for how brave he was throughout the whole thing.
I love him!
Lyrics of Enchanted by Taylor Swift
This part reminds me so much of when Lilac and Tarver first meet
If you like
hate to love romances
then this is one for you because at first there is so much awkward and forced animosity between them which eventually grows into something a lot more lovely and sweet.
Their characters
complemented each other
really well because they were strong as individuals but brought out the best in each other and were able to deal with a lot of issues/problems, that had always plagued them, together.
I do wish that we saw their love grow from shy but passionate love into intense and "I would die for you" love a bit more slowly but that's a small complaint:)
Plot:
This book is
perfect way to get into sci-fi YA
!
I never felt lost or like a fish out of water while journeying through its twists and turns because the descriptions painted a clear and vivid world (some of the most
mesmerising and flowing descriptions of setting
I've ever read).
The survival aspect of this book was interlaced with emotional growth
of the characters and let us see how truly scared they were (because who wouldn't be scared if they're isolated on an unknown land and their home just crashed and burned?) and so I enjoyed it! It didn't just stick to the usual path of purely methodical survival because they were interacting with a whole new world.
There are
two major twists
and I personally adored both of them because I did not see either coming
!
One of them really spotlights character development while the other is one that should make a sci-fi lover proud because it explains everything through this fantastical world and its creatures.
Writing:
One word: Spellbinding
!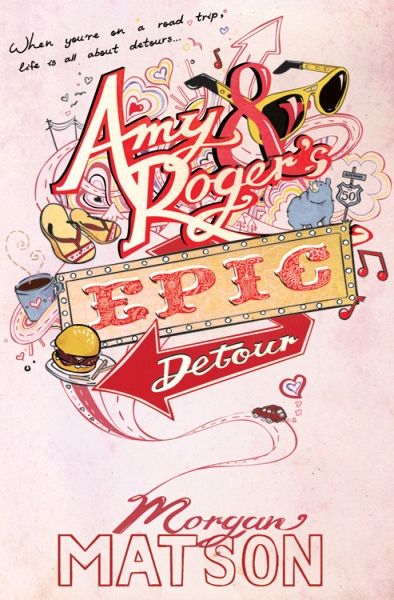 Amy Curry is not looking forward to her summer. Her mother decided to move across the country and now it's Amy's responsibility to get their car from California to Connecticut. The only problem is, since her father died in a car accident, she isn't ready to get behind the wheel. Enter Roger. An old family friend, he also has to make the cross-country trip - and has plenty of baggage of his own. The road home may be unfamiliar - especially with their friendship venturing into uncharted territory - but together, Amy and Roger will figure out how to map their way.
This book made me feel so much
!
It's not just a light and purely fluffy read and yet it's so sweet and cuddly
!
Me after reading this:
This is the kind of book you just want to hug after reading it because it's
sugary sweet but packs an emotional punch

!
Amy is a character who you can't help but root for the whole way through:) She is dealing with a lot because her dad recently passed away and she feels guilty. She feels heartbroken.

She feels lost.
All she wants to do is recapture who she used to be before the car accident ruined her life- but she can't. To make it worse, she feels

alone

. Her mom never seems to be there and her twin brother (younger by 3 minutes) is off in rehab after his father's death lead to him abusing drugs out of sorrow.
Her mom decided that they would all move to Connecticut to get away from all the memories that haunted them. She went on this road trip to reach Connecticut for

a fresh start
but instead found one during her road trip with Roger- because of Roger.
I love Roger! He's a guy with a golden heart.
He's so

wonderful

it's like he's made of rainbows;)
Pretty on the outside and inside!
Their relationship is so real
!
The

slow journey

from

awkward strangers with shy smiles

to

friends

who can play Twenty Questions and write haikus together and take spontaneous detours to see bears

in Yosemite and eat cheesesteak and wear giant socks 'borrowed' from Walmart to run and slide on the gleaming floors of an empty Walmart and eat way too much fast food

(so much fun randomness they get up to
!
) to two people who realize that a simple hug from the other means more than the world sometimes. And the moment they finally realize how right they are for each other had me

cheering, swooning and smiling;)
Normally when two characters meet for the first time in books there are barely any awkward silences; in fact, they are more than witty from the first "hello," but not in this lovely book.

Every relationship in this book was crafted with a delicate and skilled hand
!
We meet a whole variety of characters from Bronwyn: the weirdly wise and friendly fashionista, Leonard: the sweet video-game addict with a cool 'Call Me Kevin' t-shirt to Hadley: the girl Roger can't let go of.
Both Amy and Roger have quests of their own.

I don't want to go too into detail but just know the way they're there for each other is

magic

(real magic which we can all find:)). There's this scene which just made me stop for a second and appreciate what an impact someone can have on your life
!
Another thing that I loved about this book was that

we get to go on the road trip with them

too because there are scrapbook pages, restaurant receipts, playlists and little sketches scattered like delightful treats all over this book
!
So my reviews weren't as mini as I thought they would be...;)
Both books, of course, get a...