Waiting on Wednesday is a weekly event hosted by Jill at Breaking the Spine that spotlights upcoming releases we're eagerly longing for and anticipating!
My choice is The Hidden Oracle (The Trials of Apollo #1) by Rick Riordan!
Here's how Rick described it in his exciting blog post:
How do you punish an immortal?

By making him human.





After angering his father Zeus, the god Apollo is cast down from Olympus. Weak and disoriented, he lands in New York City as a regular teenage boy. Now, without his godly powers, the four-thousand-year-old deity must learn to survive in the modern world until he can somehow find a way to regain Zeus' favor.




But Apollo has many enemies – gods, monsters and mortals who would love to see the former Olympian permanently destroyed. Apollo needs help, and he can think of only one place to go. . . an enclave of modern demigods known as Camp Half-Blood.





As I explained on tour, the idea came to me while writing Percy Jackson's Greek Gods, because Apollo had been turned mortal twice before when he got on Zeus' bad side. The first novel has been so much fun to write! The Trials of Apollo is told first person from Apollo's point of view. During the series you will see all the characters from the previous Percy/Heroes of Olympus series so you can get a chance to see what they are up to.




Date of Publication: 3 May 2016
Finding out about this book has been one of the best surprises! I know there's so long from now to May but this can be part of the sunshine at the end of my IB tunnel;) I was so sad to read the last Percy Jackson book because he was one of my favourite characters and always will be<3 To hear that characters from Percy's series (hopefully him included!) will make an appearance in this book was more than music to my ears.
One thing I really admire about Rick Riordan is how he manages to take fascinating tales from Greek mythology and use them in his own stories. He actually inspired me to read the original Greek myths and I love them all the more once characters as special as his have explored them in a modern landscape. Apollo in the Percy Jackson series was hilarious because of his love of writing goofy haikus so it'll be really interesting and different to see him play the leading protagonist. Also he'll be going to Camp Half Blood which makes me feel so nostalgic - as though I was once a demigod who lived there, and experienced Chiron's warm advice, Mr. D being Mr. D and the magic within it:)
Can you imagine all the funny events that will occur when Apollo, the shining god of the sun, poetry, archery, prophecy (and many other things...) is forced to endure being a mortal? Well I have a feeling that Rick Riordan will exceed any expectation and as always bring some heart and meaning to the whole story.
This is essentially how I feel...;)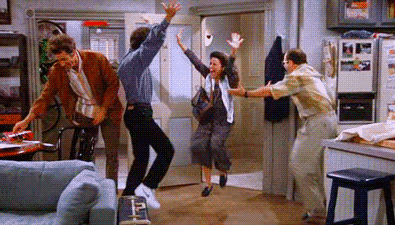 Thank you for reading!
What's your Waiting on Wednesday?:)