Recently, many books that we all know and love are being adapted into movies. It's a very bittersweet experience at first because you never know how the movie will turn out but sometimes the movies become new favourites. I've always been interested in the casting choices as soon as I hear of a new movie coming out since I feel almost like the protective older brother of these book characters. So after many of my favourite books have become movies like The Fault in Our Stars, The Book Thief, Percy Jackson, Harry Potter, The Great Gatsby, Divergent etc etc... I have decided to have a little bookish fun and really think about my dream cast for some books that have been optioned to become movies and some that I can imagine as movies

!
Here are a few actors and actresses that I would cast for the lovely and diverse cast of Legend
!
June was one of the hardest characters to cast because I have a rough picture in my head of this dark brown haired girl with eyes so dark they're black with glinting golden specks (I would love if that was what my eyes looked like
!
). Her head is always held high and her eyes are forever scrutinising and calculating but sometimes a glowing warmth exudes from them. I just feel like she radiates intelligence and strength but a slight wariness too. But one thing that always stands out on her proud and unreadable face (except to maybe Day and Metias
!
) is the undeniable kindness she can't hide.
I think she could be a great June! I don't watch Vampire Diaries but from all the love fans of the show give her, I imagine her to be a pretty capable actress:) Someone who can show all the complex layers of the Junebug we all admire and root for (eventually;)). And she's got a look which suits June's description and can perhaps make it feel like she's broken out of the book and onto our screen.
You may know Kaya from Skins or Maze Runner and she also unexpectedly jumped into my mind when I thought of June
!
She still has many physical similarities with June - maybe not as many as other actresses - but after watching her play Effy Stonem during the first generation of Skins I couldn't help but know her acting would do June justice. Effy always seemed to walk around with a black cloud around her end but it was never overdone - she came off as in control, confident and rebellious but also always loved her older brother (*cough* Who does June love? Her older brother Metias
!
*cough*) and took care of him when he needed her most. And at the same time she was lost and lonely with a deep sadness ingrained in her - the way Kaya played her with quiet and reluctant smiles or anger subtly exuding from her matches with how I imagine June in the beginning.
I love Day
!
I'm pretty sure I swooned from the get-go and never stopped. His determination to survive and keep fighting for what's right, his love for his family, his undeniable connection to June and the way he respects her enough to have her give him a chance but also not be intimidated enough to actually get her to crack a smile. I know he has long and almost Rapunzel-like hair (okay... not that long but you get the idea...;)) but I always pictured him with slightly shorter than shoulder length hair. One of my favourite details about him was his sky-blue, seven seas, soul-searing blue eyes - except one eye is coloured differently to the other but I think that shows what he's been through (eyes are the windows to the soul
!
) and honestly eyes like that are filled with stories and I want to listen to his stories all day.
There are so many actors who fulfil the whole blonde hair, blue eyes, lean and muscular thing which Day's got going on but Day's different - he's one of a kind - he's the feeling of daylight breaking out in the sky after a long and lonely night - so I tried my best.
Do you know how hard it is to choose one picture?:) I chose this one because of the way he looks at her- staring at this picture is like watching someone fall in love for the first time (there's this tenderness, awe, realisation and love in his look which I think mirrors how Day looks at June). I think we all know Alex Pettyfer - ever since Wild Child a little piece of my heart belongs to his characters. He would be my number one choice for Day because I think he'd be able to show everyone how strong, loving and loveable Day is.
Another Skins alum here (that wasn't intentional...)
!
When I saw this picture and remembered how endearing Mitch was on Skins (and how much everyone swooned for him) I couldn't resist pitching this;) He has this gentleness in his face and untamed blonde hair that I can see cascading down like Day's. He's also got a big grin which suits Day's mission to spread joy with his infectious smile.
When June loved Metias we loved him too. He deserves the Best Brother award for the way he's always looked out for June - and he calls her Junebug which is plain adorable
!
The whole story is kicked off with June wanting vengeance for his death- she needs it to heal and become whole again... or so she thinks...:P I admired his intelligence and the way he rubs off on June - and as the series goes on we learn more and more about him which was as delightful as chocolate. I envision him with this face that makes you just want to hug him, a slightly cheeky and nerdy smile and as someone who almost seems to have light radiate from them like an angel... yup not easy criteria... This one's not in a particular order
!
He may not have been exactly how I initially pictured him but then I can't help but think he'd be wonderful
!
He fulfils all the seemingly impossible criteria doesn't he?<3 He just has this radiance (like a permanent pregnancy glow:P) and friendliness just escapes from his eyes. I think he could play Metias well and Metias would be a huge change from his character on 90210 but I wouldn't typecast him due to his most famous role.
Whenever I think of flashbacks June would have of her brother - the happy moments - I picture Nicholas Hoult as her smiling, modest and composed brother who you can't help but root for and adore. His acting skills are forever golden in my opinion. He would be able to play Metias the way he deserves to be played- with an air of modest confidence and a melody playing harmoniously around him.
Lastly...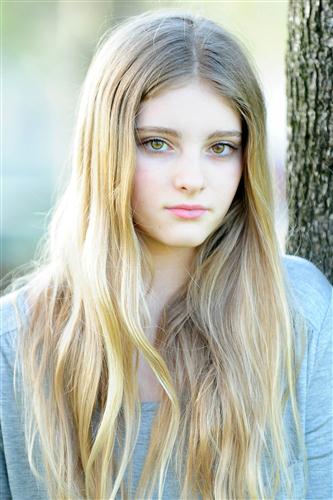 She popped into my head when I thought of the determined, frail and protective Tess. I always see her as being very lean because of her life so very delicate in a sense and with big eyes reminiscent of Alexis Bledel or Amanda Seyfried. I think Willow Shields (who played Prim in the Hunger Games) embodies the traits of Tess and can play the girl with the broken heart who becomes stronger and stronger each day.
Thanks so much for reading my looooong post
!